Welcome to WORD OF LIFE!
This exciting new Catholic curriculum includes print, video, and digital resources to inspire your student and family to draw closer to Our Lord. To ensure a successful start to your Word of Life experience, we encourage you to begin with these simple steps.
In this article
Understand your Portal
Your Teacher / Catechist Portal will be your go-to place to find all of the resources you need to effectively teach your classes. Here we will walk you through each aspect of the portal so that you can easily find the resources you need for your classes.
This portal provides additional class preparation materials and videos, as well as supplemental lesson materials, sacred art images, lesson doodles for projection in the classroom, and activities to either complement the lessons or bring the liturgical year to life in the classroom. It also provides opportunities for ongoing teacher formation.
You get access to your portal once you accept your invitation to join Word of Life. To log in, you can click "Log In" from WordofLifeSeries.org.
Set Up
Access set up from your portal, by clicking the Set Up Classrooms button. You can also access set up directly from this link.
Next steps for setting up your classroom
Student Progress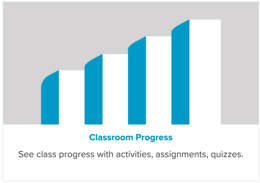 Access set up from your portal, by clicking the Track Progress button. You can also access reports directly from this link.
Progress reports allow you to see how the students are progressing on completion of the various digital elements of Word of Life.
Reports provide both class and individual student metrics for each key digital element. Reports can be exported.
Sending Messages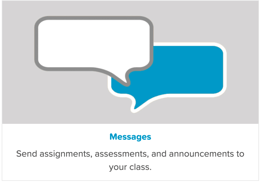 Messages are a feature of Word of Life portals, designed to support classroom communication. Messages can be used to send out announcements, assignments, and assessments.

Messages are a broadcast system, meaning teachers and catechists can send messages to everyone in their class, but the class cannot reply. Parents and students see all the messages sent to a class. Their is no one-to-one communication (teacher-to-student, or student-to-student, or parent-to-teacher). Those communications must happen outside the Word of Life portals.

Messages are only for teachers and catechists to their classrooms. There are no administrator messaging capabilities. If an administrator would like to see and send messages for individual classrooms, they can add themselves as a teacher / catechist to each classroom.

Messages are sent and viewed through the Word of Life portals. Email notifications are sent to parents and students of the class, notifying them they have a new message.
Using messages for assessments
To use digital assessments, teachers must send out a link to the assessment to their class. This can be sent using Messages.

The fastest way to send a link on the Word of Life Portal is to use the '+' indicator on the particular assessment a teacher wants to send. This will add the assessment to your next message.

Students can then follow the link from the message to take the digital assessment.
Course Resources
In your portal, you have access to key digital elements that you will need to facilitate student, teacher, and family faith formation.
Student Text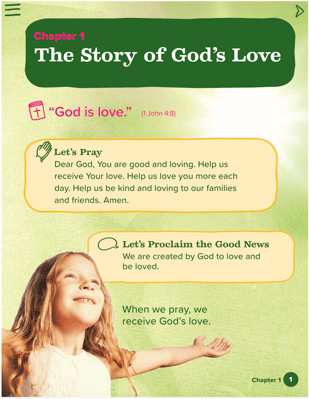 Both the print and digital Word of Life Student
Texts make learning the faith effective, engaging, and fun with Bible stories, lives of the saints, and activities for a variety of learning styles.
The Word of Life student can be used in the classroom to facilitate some elements of the lessons and lesson activities throughout the chapters. The student text contains all of the lesson material, activities to reinforce what is being taught in the lesson, and a lesson review for assessment preparation. Every answer to any activity or review question is contained within the lesson. For online users, we even provide clues to help them locate the correct information to complete the activities.
Teacher Manual and Parish Catechist Manuals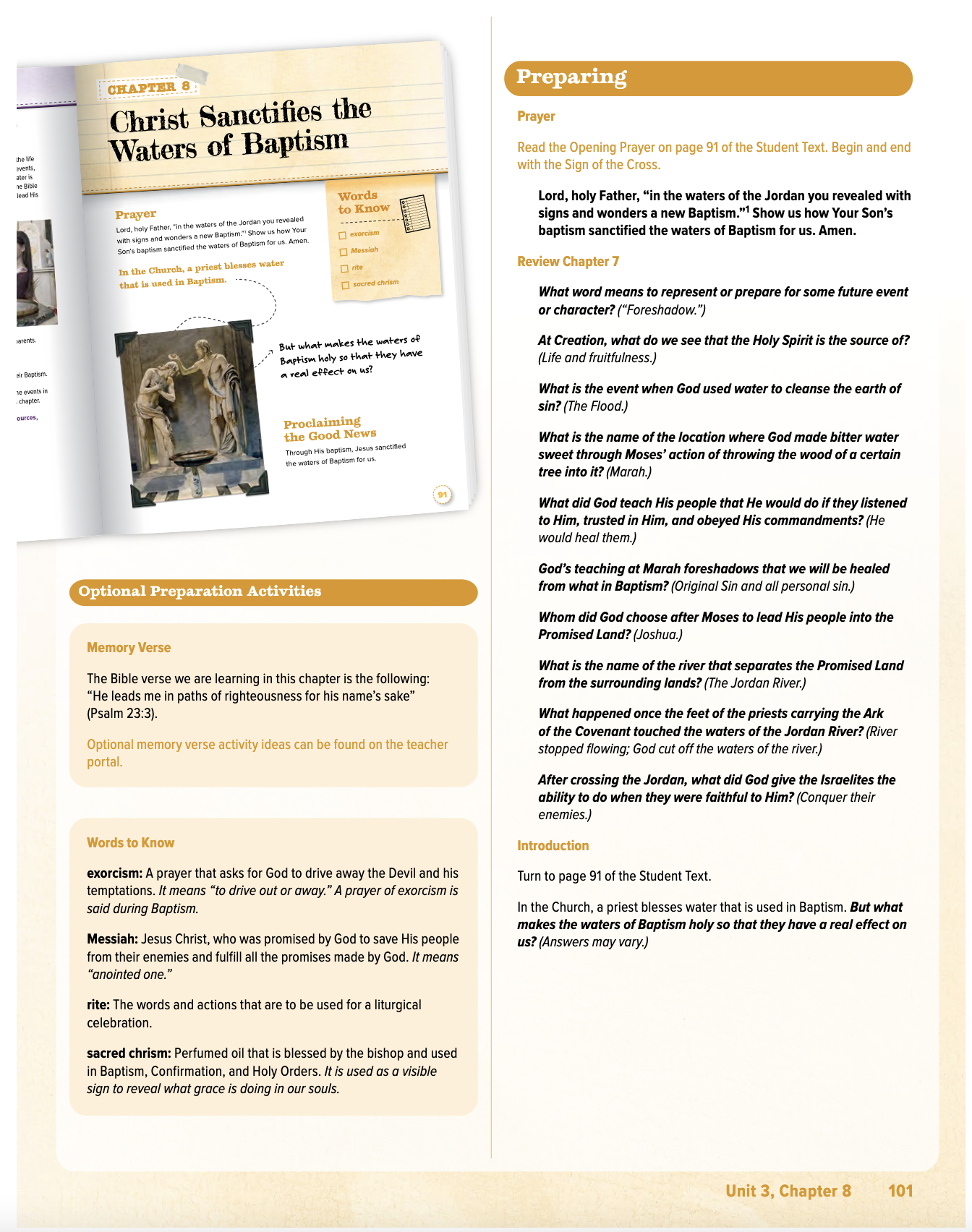 The Teacher and Parish Catechist Manuals provide everything that a teacher will need to effectively present the lesson material.
The manuals provide complete facilitation guidelines for each of the chapters, as well as the four liturgical season lessons.
Teachers can teach a class directly from the teacher or parish catechist manual because each lesson highlights the key learning points and provides discussions questions and answers. Teacher doodles can either be hand drawn using the instructions in the manuals or you can use the digital teacher doodles to visually illustrate key points in the lesson.
Assessments
Assessments are used to check for student understanding of the material being presented in class. There are several forms of assessment available to teachers:
Activities in the Student Text, along with the optional and bonus activities, can be used throughout the chapter as formative assessments. Many of the bonus activities are large projects, such as research projects or presentations. To aid in assessing how well your students completed these activities, rubrics for various types of activities (research papers, presentations, art projects, etc.) are available on the teacher portal.
Print and digital assessments for each chapter and unit are available on the teacher portal. Results from digital assessments will appear on the digital progress reports.

Teacher Prep Audios (Coming Fall 2022)
Each chapter will have a 3 to 5-minute teacher prep audio that provides an overview of the key elements that need to be covered for this chapter and help you to prayerfully prepare for class.
Lesson Enhancement Videos
For many of the chapters in WOL, there is a lesson enhancement video that highlights key aspects of the lesson. They can be used in class or assigned as homework.
Teacher Doodles
The doodles provide graphic depictions to help you explain different elements of the faith in ways that students can easily understand.
Lectio divina Videos and Audios
Grades K to 3 have lectio divina videos for every chapter. They provide an alternative way to facilitate the "Preparing" section of each lesson. They can be used in class or assigned as homework.
Grades 4 to 5 have lectio divina audios to help students to pray with Scripture. They can be used in class or as homework.
Lectio divina is an ancient form of praying with Scripture. The name is Latin for "divine reading." The steps of lectio divina used today were developed by a Carthusian monk in the twelfth century.
With each grade of the Word of Life series, students will grow in their ability to pray using lectio divina. Our goal is to give the students a short and simple experience of reading and praying with Scripture.
Sacred Art Videos and Interactions
Sacred Art is often inspired by God. It is an effective means for preparing the students and opening their hearts to the promptings of the Holy Spirit. Each chapter provides prayerful reflections for the sacred art image in the Student Text. Sacred art reflections invite students to enter visually into the mysteries of Christ and ponder these mysteries in a prayerful exercise. Grades K to 3 have sacred art videos, grades 4 to 5 have sacred art interactions.
Sacred Art Images
You can use either the Sacred Art videos in class or project a digital version of each image as you discuss it during class. These resources are available on the teacher, student, and parent portals. The sacred art videos also can be assigned for homework if there is not enough time to discuss them in class.
Journal Pages
Journal pages are provided on the teacher, parent, and student portals. In each chapter, there are enrichment pages that enhance the students' understanding of key themes of the lessons. For grades 3 to 5, journal pages relate to the material on the enrichment pages in each chapter. Every enrichment page concludes with a question or statement that calls on the students to reflect on and articulate their faith in a personal way on their journal page. If done in class, these journal pages work best as a reflection activity. They also can be assigned as homework.
Music
Grades K to 3 have a variety of different songs that can be used in class as part of the Preparation or Celebration step of the Ecclesial Method. The chapter resources offer suggestions for songs that would most closely link to the lesson. All of the songs can be accessed under the Music Tab in the Resources by Type section. Each song has an accompanying PDF with the lyrics if you want to print them off for the students. The lyrics can be found in a lyrics folder in the Resources by Type section.
Prayers to Know Videos
Word of Life offers 30+ prayers to know videos to help Catholic families learn the key prayers of our faith. They can be used in the classroom or assigned as homework for the children to pray with their families.
Optional Activities
These activities are very closely tied to the lesson content. They provide a more extensive review or exploration of a concept presented in the lesson. When needed, black line master pdfs provide all that is necessary to facilitate the optional activities offered in the lessons.
Bonus Activities
These activities provide a variety of approaches that are tailored to different learning styles to help students better understand and live out their faith.
Family Faith Pages
Word of Life family faith pages provide a quick summary of what the student learned in class and simple discussion questions (and answers) to spark conversation at home. It also provides suggestions for life application in the family (including virtuous living), family prayer, and family activities to practice the Catholic faith at home.
Brother Francis Videos
These videos provide great family entertainment and faith formation. They have been correlated to the various chapters, but all are available for use in the classroom and at home.
Flashcards
Each chapter has digital flashcards that students can use to master the words to know. They are available on the student, parent, and teacher portals. They can be used in class or at home for assessment preparation.


Set up your classroom
From your portal, click the Set Up Classrooms button to get started.
Invite Teachers
Once you have accepted your invitation to join Word of Life, you can add other teachers or catechists to your class.

---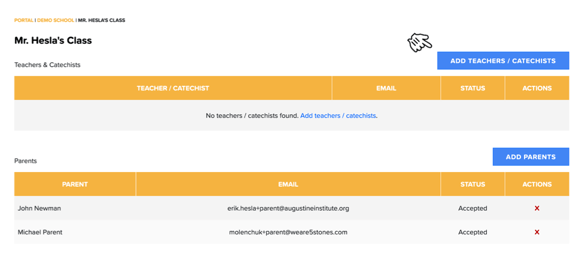 To add a teacher or catechist, click the "Add Teachers / Catechists" button.

Quick Tip
If you ever need to go back, use the breadcrumbs (links) at the top left of every page.

---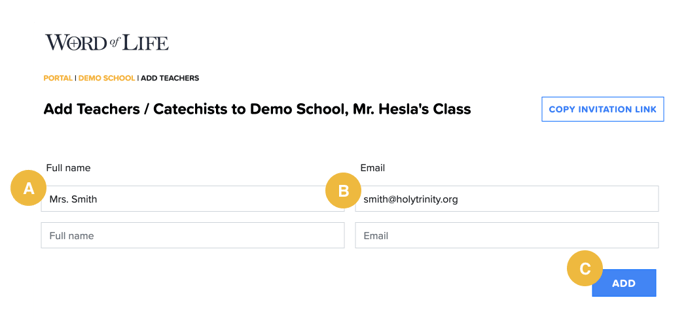 A.
Enter teacher / catechist first and last name.

B.
Enter teacher / catechist email address.

C.
Click the "Add" button.
Teachers will receive an email invitation they must accept to have access to their classroom.
Quick Tip
As you add teacher / catechists, new lines will appear, so you can conveniently add multiple.

---

You can use the "Copy Invitation Link" button to create and copy a link that you can send to a new teacher / catechist directly.
Great! Your class has been added.
Next, you can invite parents to the class.
Send Invitations to Parents
Word of Life is designed to support parents as the primary catechists of their children. Every parent has full access to their student's course materials and progress.
Important
Parents must set up their student's online account to comply with legal standards.

---

Parents are added to from the classroom set up page by clicking "Add Parents". Parents of multiple children will need to accept invitations from each classroom.

---

You can use the "Copy Invitation Link" button to create and copy a link that you can send to all parents at once.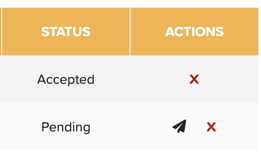 Quick Tip
You can add parents by name to send email invitations to them individually.
These invitations are tracked.
All set up! Your parents have been invited.