Learn how to register as a parent, confirm your account and add students.

Accept Email Invitation to Join Word of Life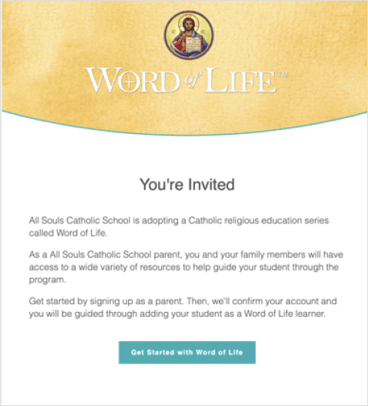 Check your email for the invitation sent by your student's teacher. Look for "You're Invited! Word of Life" in the subject line.
Note: If you don't see the email in your inbox, check your spam folder.

Register as a Parent
(A) Enter your email. It's important that this matches the email from your email invitation. (B) Enter your first name and last name (C) Agree to terms and privacy policy (D) Sign up.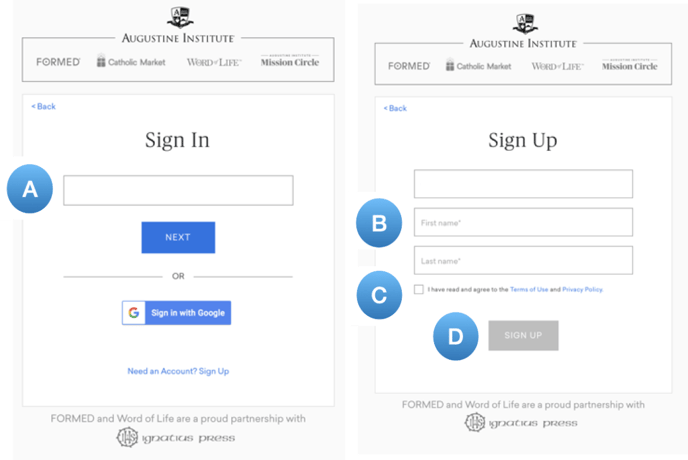 Confirm Your Account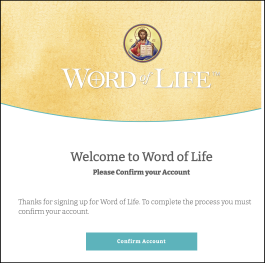 As a Word of life parent, you must confirm your email. (This is to ensure compliance with laws regarding the privacy of minors.) Check for a confirmation email. Look for the subject line "Please confirm your Word of Life account". Just click the Confirm Account button to complete the process.
Note: You must confirm the account in the same browser you used to register.
When registering for Word of Life, you initially have a "passwordless" account. This enables you to log in using only email. If you wish to add a password to your account check out this article.

Add Student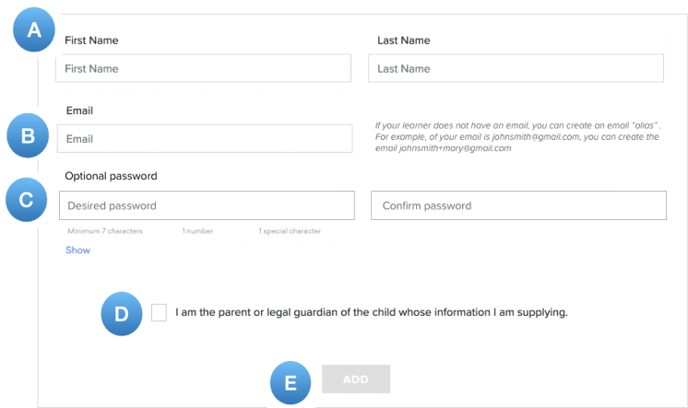 After confirming your email, you will go directly to the add-student form. For privacy, only parents can add students.

(A) Enter your student's name.

(B) Enter their email. (This cannot be your email.)
If your student has no email, you can make an "email alias" based on your email + your student's name. For example, if your email, is johnmiller@gmail.com, you can create the alias "johnmiller+mary@gmail.com. Email aliases are supported by Google, Microsoft, and Apple, and others. If you use another email provider, check with them to confirm that email aliases are supported.

(C) Recommended: Enter an optional password. This will make it easier for your student to log in directly. Password must have a minimum of seven characters, at least one number and at least one special character.

(D) Confirm that you are a parent or legal guardian of student.

(E) Add student.

Congratulations!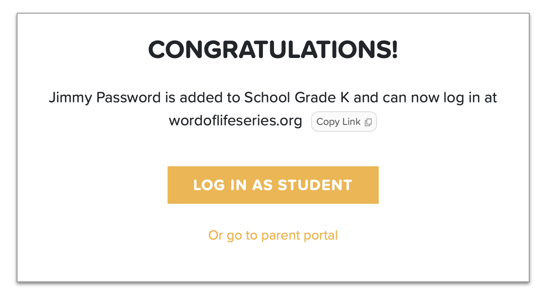 Your student may now enter the Word of Life program. Click the LOG IN AS STUDENT button to sign yourself out and proceed to the page where you can log in using the student you just created.
How to sign up multiple students from multiple classrooms.
If you have multiple children, you will receive more than one signup invitation. Simply repeat the process above for each child. In the case of multiple classrooms, be sure to use the class dropdown before adding a new student.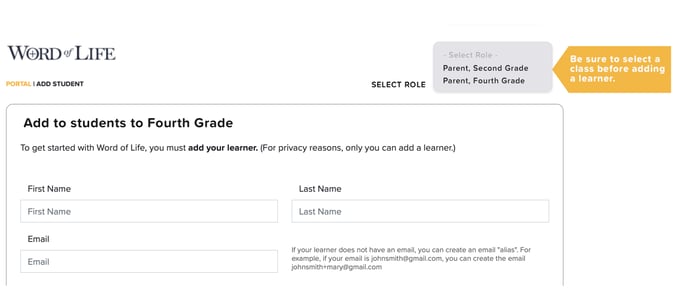 Need more help?
If you have not received the invitation to the portal, contact your parish or school.

If you are experiencing technical issues, contact support@wordoflifeseries.org.